HR Executive Resume
---
How many times have you sent your HR executive resume to recruiters and almost every other company that you could find on job portals, only to never hear from them again?

How to start?
So what do you do to make sure that you get call backs and get shortlisted from recruiters? How do you beat the cutthroat competition out there?
The key is in that one-page document that you relentlessly send anywhere and everywhere. Our guide to writing the perfect Human Resources Executive resume will guide you how to beat the competition and get yourself shortlisted in your dream company!
---
Smart CV Sample
(recommended when some work ex.)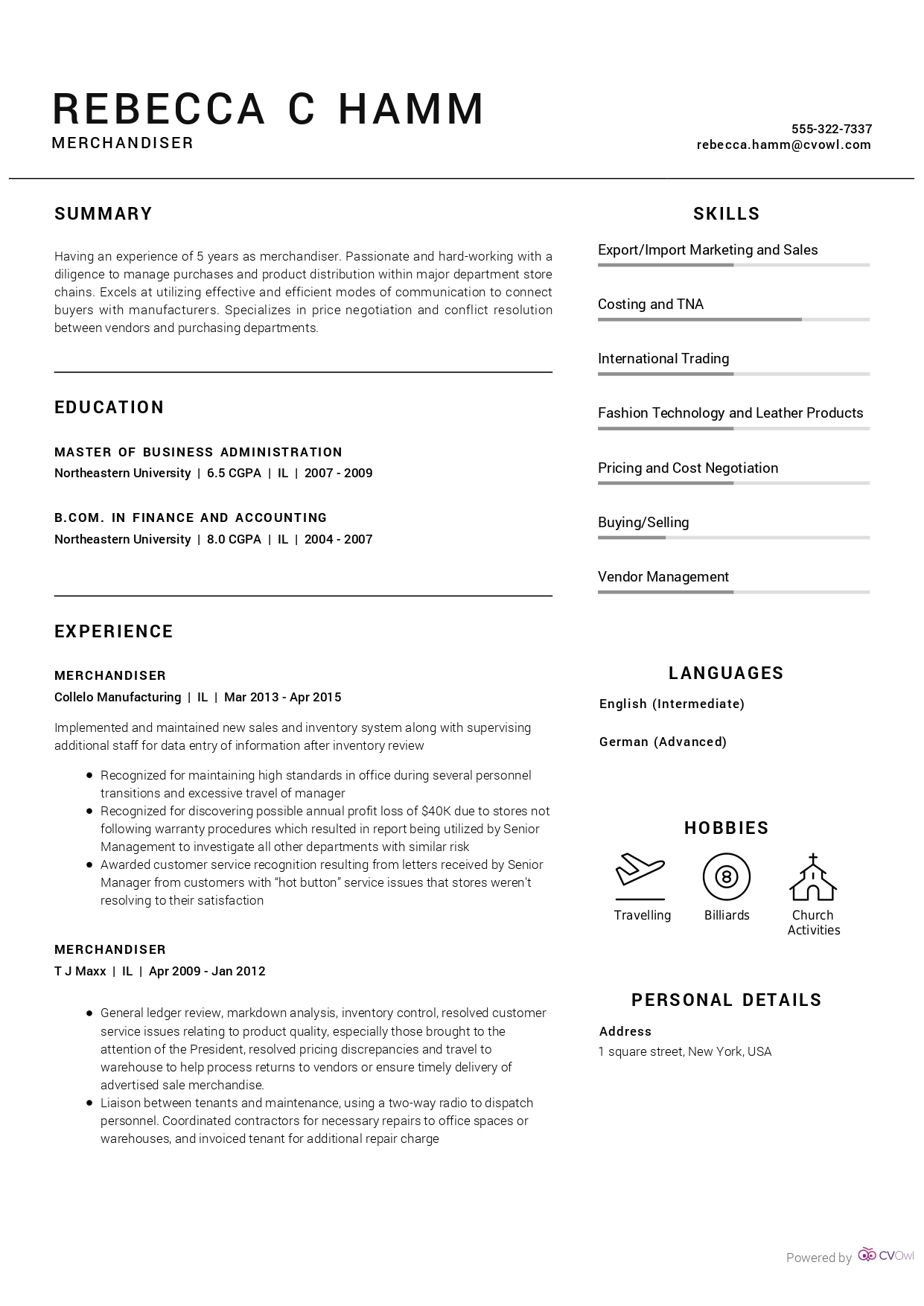 Classic CV Sample
(recommended when no work ex.)
---
A few Insights....
Level of job : Entry Level, Mid Career
Average salary India : ₹3.75 LPA
Career path : Entry Level → Assistant HR Manager → HR Manager → Director HR
Skills required : Computer Savvy, Multi-tasking, Good Communication, Employee Relation, Decision Making, Performance Management
Related jobs : Assistant Human Resources (HR) Manager, Executive Assistant, Human Resources (HR) Assistant, Senior Human Resources (HR)
---
Getting started?
As HR's, we are gurus in the resume department correct? Therefore crafting a HR Resume should be "easy peasy" and not such a daunting activity? Well, the pastor's child is usually most misbehaved, the physician never goes for check-ups, and yes, the recruiter is typically without any historical information on work history apart from an average Linkedin profile. Fear not, because our Recruiter Resume sample below will provide you with all the required inspiration and guidance to craft your own unique resume.
Call the job what you like: Talent Acquisition Specialist, Candidate Recruiter, 360 Recruiter, Virtual Applicant Sourcer, Recruitment Sales Consultant. There are thousands of opportunities advertised each week, but just as many candidates applying for HR roles on a global scale. Standing out from the competition is crucial and "flexible, dynamic and hardworking with the ability to network" as your sales pitch will take you straight into the decline folder.
Come On.. Lets Discuss it one to one
"We would love to help you create your CV. You can whatsapp us on +91-9716366366 and consult an expert for free"
---
What to include in HR Resume?
A HR resume consists of seven components, all vital to persuade a hiring manager or agency owner, or recruiter that you are the right fit for the role at hand. These are the components that you should include-
Contact Information
QualificationSummary
Career Summary
Work Experience
Skills Summary
Licenses/Certifications/Relevant Coursework/Training
Contact Information
Name, Address, Phone, Email. Make sure to include alternative contact channels, as well as your LinkedIn profile or Facebook URL.
Qualification Summary
Provide accurate details about your qualifications completed and in process with the institution, qualification name, and dates.
Career Summary
The main purpose of a career summary is to make your most unique skills and experiences immediately visible to hiring managers. Heads up you probably skim through resumes of candidates in six seconds…well, so does the person reviewing your resume.
Read a few summary statements in merchandiser resume samples to get a feel for the wording, phrasing and style of this introductory section. You'll want to avoid using personal pronouns in order to keep it brief and professional.
How to guide:
The first sentence or bullet point should include your job title and number of years' experience
Then follow up with snappy, impactful skills and competencies
In your third sentence or bullet point add a wow factor (achievement, accomplishment, highly specialized skill)
Finally, conclude with your most prestigious credentials and qualifications
Two Examples of different career summaries:



Career Summary 1


Results-oriented Engineering Recruiter with five years' experience in sourcing talent for the Medical Device Manufacturing industry. Adept at identifying scarce skills and building pipelines of passive candidates for hard to fill openings in process and project engineering at remote geographic locations across the New England Area. Completed a Bachelor in Human Resource Management and is a pro at X-Ray and Boolean searching methodologies.

Career Summary 2
Deliverable focused Senior Recruiter offering tenure in 360 recruiting in an Executive Search Firm environment. Clients include major Fortune 500 companies with positions filled ranging from Director to Vice President Level averaging one successful hire per month for the last three years with placement fees of $100k per candidate. Holds a Certified Employee Retention Specialist (CERS) credential and currently completing a Bachelor's Degree in Sales and Marketing.
Education
The rule of relevancy is especially valid for your education section. Always highlight the most relevant qualifications first and then list them chronologically from the most recent to the least recent one.
Here are some examples of a Recruiter Resume in terms of education:
2019 – Certified Inside Sales Professional (CISP), American Association of Inside Sales Professionals (AA-ISP), Dallas, TX
2016 – 2018 Bachelor Degree in Human Resources, Western Kentucky University, Bowling Green, KY, United States
2016 Professional in Human Resources (PHR), HR Certification Institute, Alexandria, VA
2013-2014 Certified Internet Recruiter (CIR), Advanced Internet Recruitment Strategies (AIRS), Online
In a HR Resume, the accomplishment section can make or break your application. Don't take the easy way out by simply copying and pasting your list of duties from the experience section of your resume.
Your goal is to highlight those aspects that set you apart, what you are most proud of, or what you accomplished in your previous roles, present these through action-packed statements that are eye-catching and create excitement to get you on board as soon as possible.
Work Experience
Highlight your relevant job experience by using either a functional or chronological resume format. Both work as long as your duties and skills are aligned to the job description and further emphasize other areas, such as accomplishments, education, and skills. Use brief sentences with bullet points to list the most important job functionalities
No work experience yet? No problem. Use a functional format to amplify strengths and core skills, for instance, sales or research that could be applied to a recruiter's role. Informal experience gained during vocational or temporary jobs is essential to jot down, especially if you are applying for an intern or junior recruiter position to showcase your work ethic and learning potential.
Use the same strategy if you are making a career change, and this is the first recruiter role you are applying too. Only elaborate on the last 5 to 10 years with full job descriptions and merely list company duration of employment and title for any work history preceding ten years to avoid employment gaps in your resume.
Skills
If you are an old hand at recruitment, you already know what an ATS is. For those perhaps applying for your first recruiter job – ATS stands for Applicant Tracking System aka automated screening via the ''Bots''. Now you need to beat these bots by using words, phrases, and terminology aligned with the job spec for your resume to pass through the digital screening barrier and into the inbox of a human hiring authority. Failing to do this will result in declines, regrets, or often feedback radio silence.
Cracking the ATS is easier than you think. Just mirror the wording from the actual job advertisement and sprinkle the terms and phrases throughout your resume document. (obviously remaining truthful at all times). If the job description contains acronyms use the same abbreviations in your resume if the words are spelled out fully duplicate them likewise in your resume.
Instead of creating a long bulleted list of technical competencies and soft skills (we all know you can network on Linkedin and that you are flexible, dynamic and hardworking) pick the five most prominent technical skills in the job spec and link them to a personal trait/feature you have by using a strong action verb.

For Example:
Implementing innovative research strategies by utilizing X-Ray and Boolean sourcing methodologies.
Engaging in high-level retained service level agreement negotiations as a measure to qualify job order urgency and client commitment
Spearheading below the line market awareness within the process engineering talent pool by posting career advice blogs on Instagram, Facebook, and Linkedin
Suggesting relocation package structures to clients in rural areas as a means to problem solve the lack of candidate flow for their specialist technical roles
Prioritize staffing projects per vacancy frequency and volume to meet all resourcing requirements 30 days before final implementation deadlines
Check out the video
"We would love to help you create your CV. You can whatsapp us on +91-9716366366 and consult an expert for free"
HR resume Fails:Mistakes to Avoid
Choosing the best resume can be difficult sometimes. Go for resume template design that looks attractive and readable.
Keep your resume compact
Do not include every single job
Check grammar,spelling and other errors
Conclusion
Whether you want to completely revamp your existing resume for human resource or whether it's been ages since you last updated it, a master human resource resume is ideally the way to go.It solves multiple purposes: you'll have a single document with EVERYTHING you've ever done.
That's not enough, your master human resource resume is going to help a lot in your interviews. Interviews are mostly resume-based, and to avoid being sloppy when it comes to answering those questions, your master resume for human resource will have points with proper context. It might sound implausible, but there have been thousands of instances where people blank out while answering questions from points straight out of their human resource resume.
Research is something that'd go a long way in ensuring that. Go through multiple JDs of your profiles to shortlist terms/phrases that are to be expected. A rule of thumb is that pretty much everything that's mentioned in the JD is a keyword. It's your job to filter out terms that can go in your resume for human resources without looking like you simply plagiarised it.
A few other common pointers include not using first-person pronouns, going easy with the articles (a/an/the - losing an article now and then will make it more crisp), not using full-stops in the end (since human resource resume points are not complete English sentences), excluding personal details (though its extent can vary; recruiters in the US are forbidden from asking any personal information whatsoever – age, gender, religion, marital status, etc., while others elsewhere ask for passport details as well). And lastly, proofread a dozen times.
---
Want an expert opinion?
Mention your Email ID
Attach Resume/Coverletter/SOP
---