Merchandiser Resume Sample
---
How to start?
If you're looking to apply for a merchandiser job, you'll want to approach the process of crafting your merchandiser resume with the same meticulousness that you reserve for choosing and evaluating manufacturers.
A Merchandiser adds life to a retail store. Your job is to make people want to buy. How about your Merchandiser resume? Will it entice the company to hire you? Here's an important stat you should keep in mind. Every job post attracts 250 resumes. It's a competition. If you want to win, you should prepare for it.
Look no further. We've made sure every section is a strong point. You only have a few seconds to get the recruiter's attention. Every second counts! It doesn't matter if you're entry level. We will turn your so-so merchandiser resume into a powerful driver of interest from employers.
---
Smart CV Sample
(recommended when some work ex.)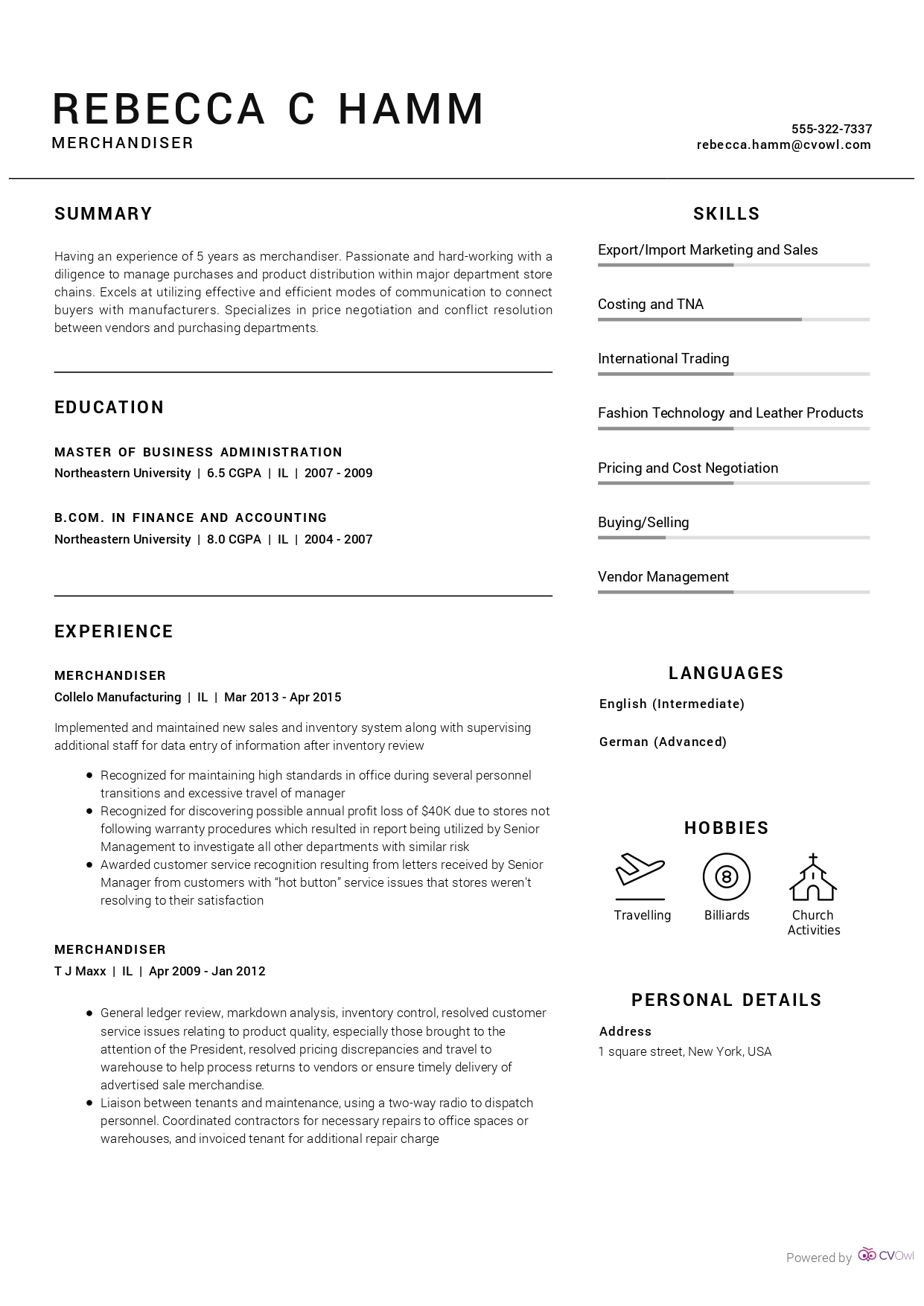 Classic CV Sample
(recommended when no work ex.)
---
A few Insights....
This job is very straight-forward. It does not require special training. Therefore, tenure is important. For this reason, use the reverse chronological for the Merchandiser resume format. What is a good tenure? Most people use this job as a career path. Thus, you don't need a long tenure. Anything above 2 years is good. The chronological resume format puts your current skill levels front and center. That's why recruiters love it. This format makes their job easier.
Level of job : Mostly Early career, part time mid career
Average salary India : ₹3.6 LPA
Career path : Merchandiser -->Product Manager-->Business Head
Skills required : Product Line Optimization, Pricing Negotiation, Forecasting Sales and Product Trends, Report Analysis
Related jobs : sales manager , advertising manager, and wholesale/manufacturing sales representative
---
Getting started?
No needs to worry if you have an entry level Merchandiser resume. After all, this can be an entry-level position. Your focus should be on how to make your strong points stand out. How do you do that?
Shift to the combinational resume format. In this format, you just need to place work experience ahead of personal information. You want the attention to your skills and other strong points.
Use the resume objective to share a story. Tell the recruiter why you want to become a merchandiser. Are you a marketer? Did you have a good track record in sales? Do you enjoy working with other people? Do you have the skills to turn the company's fortunes around? Prepare yourself to answer these questions.
Come On.. Lets Discuss it one to one
"We would love to help you create your CV. You can whatsapp us on +91-9716366366 and consult an expert for free"
---
What to Include in a Merchandiser Resume?
As a merchandiser, you know that the first step in many processes is to plan. Building a resume is no different. You can start planning what to include and what not to include in your document by looking for ideas in merchandiser resume samples. You'll see that each one varies because no one person shares the same professional history.
What you ultimately decide to include will depend on your experience, skill sets and career path. It's also important to note that while there are multiple ways you can craft this important document, you should be sure to include the following essential sections.
Objective statement
Have a go at our merchandiser sample resume objective for Merchandiser. We started off with tenure. This was a top priority in the job post. It is always highly recommended to review the job ad description before writing your resume objective.
Lastly, give at least 3 attributes. These are soft skills. Companies want to hire people with specific traits. Be honest when you enumerate these qualities. Another format you could use is the functional resume format, which highlights skill sets as opposed to work experience. This type is preferred for recent graduates and professionals who are changing careers.
Summary Statement
You will introduce yourself to the potential employer at the top of your resume in the summary statement. As opposed to talking about your career objectives, you will discuss your experience, skills and strongest qualification.
Read a few summary statements in merchandiser resume samples to get a feel for the wording, phrasing and style of this introductory section. You'll want to avoid using personal pronouns in order to keep it brief and professional.
Education Section
Anything that falls under the category of academic or formal training that prepared you for your career would go under the education section. If you're using a chronological resume format, this section will be a simple list of your education entries.
If you are a recent graduate, you may also include your graduation date and GPA. Students who are still enrolled in school may put an anticipated date of graduation.
Start with your most recent education entry and work backwards from there. For instance, if your highest level of education is a bachelor's degree, then start with that. Also, you do not need to include a high school diploma if your education exceeds that level.
You will also want to add internships, especially if you don't have very many entries for the work experience section. Job training and work-related seminars you have attended are also perfectly acceptable to include under the education section.
Work Experience Section
The most important positions you've held leading up to your career as a merchandiser will go under the work experience section. This area is the most prominent area of a chronological resume, but it will be far more concise in the functional format.
If you've been building a career for a while, take a look at merchandiser resume samples written in the chronological resume format. You will see the layout of this section and how to phrase your descriptions.
In each job entry, be sure to include your previous title, the company you worked for as well as its location and your dates of employment. You may choose to include the month and the year or just the year, but be consistent throughout your resume while listing your jobs in reverse-chronological order. Include a combination of job responsibilities, skills you exercised and quantifiable achievements. It is also important to begin each point with an action verb.
Skills Section
If you decided to write a functional resume format, the skills section is where you'll focus most of your attention. Even if you lack the work experience of a merchandiser, you can still qualify for a position with your skill sets and talents.
A chronological resume format will feature a brief listing of your most important skills that qualify you for the job you're applying to. Here are a few examples of skills that would be appropriate for a merchandiser resume.
Product Line Optimization
Pricing Negotiation
Forecasting Sales and Product Trends
Report Analysis
Computer Skills
It pays to know some computer programs. Everything is done through software. MS Office is important. In our merchandiser resume sample job description for Merchandiser, Candace revealed she has knowledge in Corel Draw. This supports her skill in Graphic Design.
Certification
No certification is needed. Other than digital marketing, copywriting is a great skill to have. You'll know how to write good marketing copy. SEO will help you write optimized content for the Internet. Inventory management is likewise important. You may be asked to assist in the counting of stocks at some stores.
References
There will be other opportunities within the hiring process to offer your references to the hiring manager, so you don't need to waste space on your resume by including them. When you do get the chance to give out some contacts, consider previous supervisors, colleagues and possibly vendors with whom you shared good work relationships.
---
"It is important to have professional relationships with people who are willing to speak highly of your skills and experience to potential employers. However, you do not need to include references on your resume."
---
Check out the video
"We would love to help you create your CV. You can whatsapp us on +91-9716366366 and consult an expert for free"
---
Merchandiser Resume Fails:Mistakes to Avoid
Choosing a resume template can be tricky. Go for such a resume template design that looks good and feels readable at the same time.
Keep your resume concise

For entry-level positions, one page is sufficient for a resume. Managerial resumes may be two to three pages depending on the professional's experience. Only executive-level resumes should exceed three pages.

You do not need to include every single job you've ever held in your career

Whether you have an extensive work history or only a few jobs, just list the most recent positions you've held. If you've been employed in multiple industries, choose the positions that are most relevant to merchandising.

Don't forget to double-check your resume for spelling, grammatical and typographical errors

Even if you have impressive qualifications listed on your resume, they won't look so good with careless mistakes.
Conclusion
When applying for a job, you need every advantage you can get. Go through our resume writing tips for merchandiser resume sample and get shortlisted for your next job:
No Errors

You can't post content that has errors. Spelling and grammatical errors are not acceptable. Consumers will notice right away. If your resume has errors, that is a red flag.

Make it an Easy Read

Like consumers, it takes only a few seconds to get a recruiter's interest. Make sure your resume is an easy read. Keep it organized. Use simple language.

Cite Figures

Don't just cite achievements. Back them up with figures. Numbers validate your claims. Don't lie about them! It will be easy for recruiters to find out.
So are you ready with your ideal Merchandiser resume? Why not get it verified by our experts for free.